Hotgo featured Ana Espinola on Thursday, 16th December 2021 at 12 AM on Playboy Tv. They featured four exclusive videos. She gets 500+- views in her videos in 12 hours. Hotgo and Ana Espinola announce their Instagram official page.

Meet Ana Espinola and immerse yourself in an experience of pure pleasure. Exclusive only on HotgoTv. Ana invites you to discover her most daring and sensual side. Owner of a sculptural body, she will make you travel her forbidden and hot side where limits do not exist. Also, playmate and athlete have been 10 times cover on Playboy Magazine.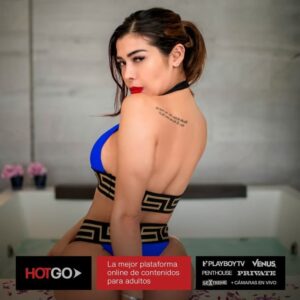 Born in Paraguay, but with Mexican blood, she began as a model at a very young age. She is a standard-bearer of a healthy life, which you will see reflected in her super-exercised body. With Paraguayan Blood but a Mexican heart, Ana and her beauty will take your breath away. A meeting where the amateur essence will be 100% at your disposal. Bella wherever you look at her, will let you enter her most private world. Are you going to miss it?
Go ahead and get to know the intimate world of Ana Espinola. This sensual and beautiful Latina will show you how to explode with pleasure. Give place to relaxation, and immerse yourself in a lustful experience of pleasure. Cheer up !!!

Reported by Time Trend Magazine, Content & Image Source: Ana Espínola & Hotgo Tv.