"DJing with Prostitution" is a common topic people are discussing nowadays. Most of the female DJs are doing prostitution besides DJing! They are choosing prostitution as their second earning source. Why DJs are doing Prostitution? What is the reason behind this? Why they are choosing prostitution as a second earning source? Is it really true that every DJ is doing prostitution?

DJing with Prostitution is a common thing in Bangladesh and also globally. But DJing and Prostitution are two different professions. Some of the DJs doing prostitution with their DJing profession or some prostitution are doing DJing as a tag. Prostitution is totally banned in Bangladesh Law and also in most countries. DJs are playing recorded music on the other hand prostitutions are doing sexual activities. It's not true that if you want to be a DJ then you must do prostitution. Yes, it's true that some DJs are doing prostitution but it has some reasons behind doing prostitution.

DJs are doing Prostitution for earning lots of money but every DJ is not doing the same thing. Then what type of DJs doing prostitution? Some of the DJs do prostitution because they don't have the proper skills for DJing. Lack of proper knowledge and skill they can't do so efficient events. That's why some DJs are choosing prostitution as their second earning source. They want to earn lots of money for living their life luxurious. Otherhand, some prostitution is using their DJ tag for doing their work without any problems.

If this problem is solved but still some people will tell those female DJs are prostitutes because of their revealing outfits. Most people think that if any female wears revealing outfits then she is a prostitute or prostitutes are wearing revealing outfits. Because female DJs are wearing revealing outfits so they are prostitutes. But revealing outfits do not have any relation to DJing. They wear revealing outfits for their fan's demand or it can be their own choice. They are trying to present their profession in stylish and attractive.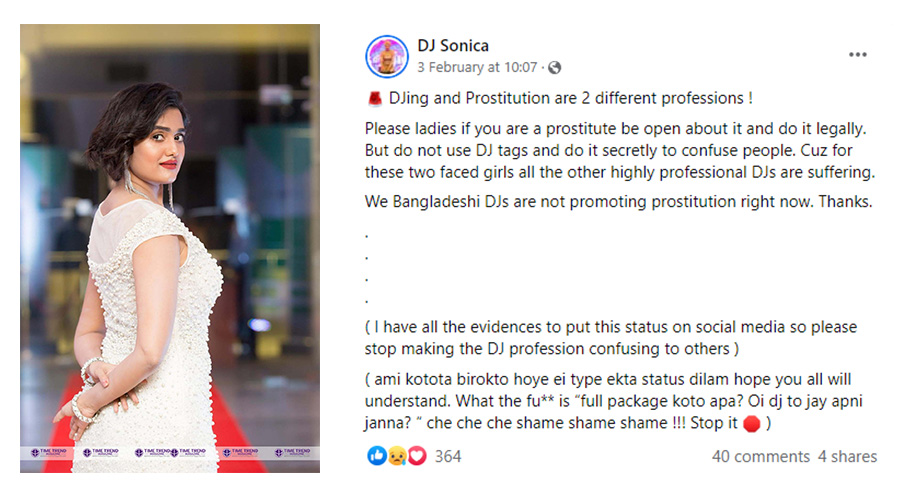 DJ Sonica said "DJing and Prostitution are 2 different professions! Please ladies if you are a prostitute be open about it and do it legally. But do not use DJ tags and do it secretly to confuse people. Cuz for these two-faced girls all the other highly professional DJs are suffering. We Bangladeshi DJs are not promoting prostitution right now. Thanks. I have all the evidence to put this status on social media so please stop making the DJ profession confusing to others. (Ami kotota birokto hoye ei type ekta status dilam hope you all will understand. What the fu** is "full package koto apa? Oi DJ to jay apni jan na? " che che che shame shame shame !!! Stop it)." on her social media post.

Marzia Kabir Sonica is better known as DJ Sonica, is one of the popular Bangladeshi female disc jockeys. It has been told that Sonica is the best female DJ and the first female professional DJ in Bangladesh.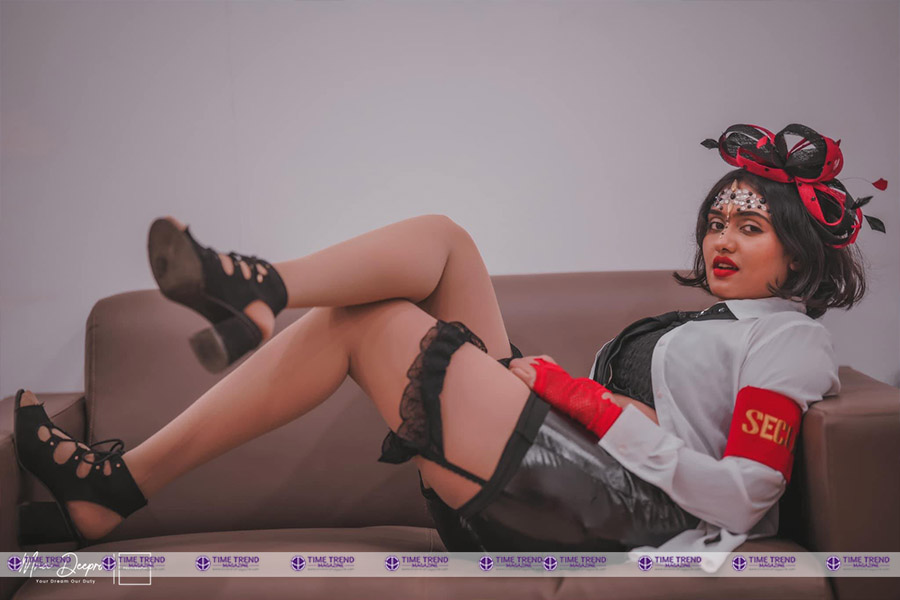 Sonica started her carrier as a DJ in the year 2007. She had trained in the institute, 'Garage', run by DJ Rahat. Then, she was the alone female DJ but since then many have followed in her footsteps. Sonica is not only popular in Bangladesh but also in India. She also got a chance to perform with the world's best DJs like Suketu, AKS, Sonu Nigam, Bombay Vikings, Bally Sagoo, Hard Kaur, etc. Playing along with big names she has also performed in WORLD CUP 2011 opening ceremony.

Reported by Time Trend Magazine, Content & Image Source: DJ Sonica & Google.